WE ARE AUCTUS SEARCH PARTNERS
Your Bridge to Talent & Acquisitions, Built by Experts.
PE Firms & Family Run Business
Public & Private Enterprise
OUR PROCESS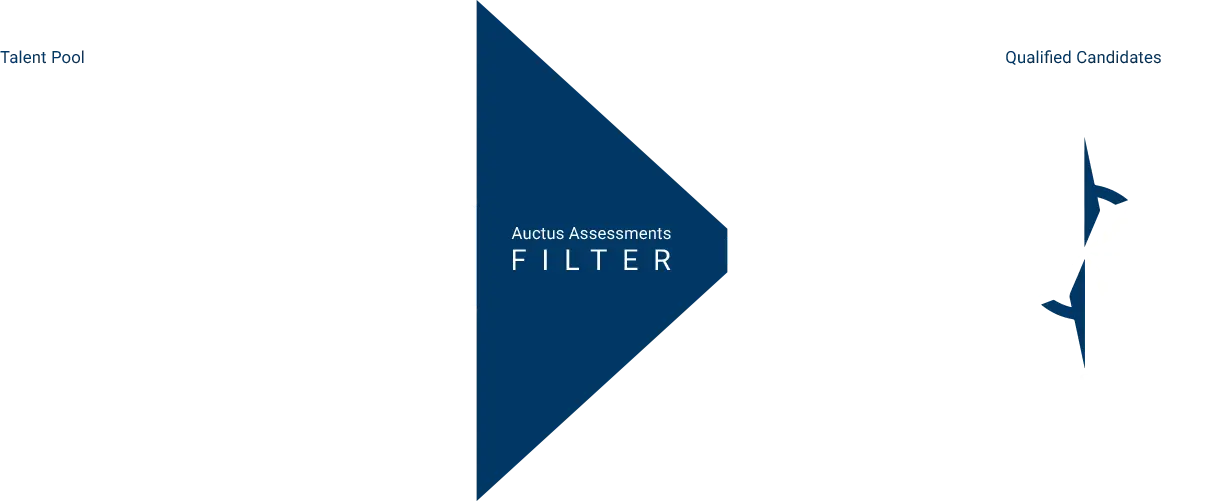 Skill Based and Professional Acumen
We have over 400 skill based assessments and can create custom skill and cognitive assessments for selecting the right candidate for any position.
Behavioral
We use a suite of evidence based behavioral and psychological assessments to determine cultural fit and derailment causing behavior risk factors.
Senior Leadership
We use a variety of evidenced based leadership assessment tools to determine leadership readiness and behavioral risk. For C-Level candidates and leadership development, we also use evidence based 360˚ surveys.
We Personalize the Talent Acquisition Experience
It starts with your Talent Acquisition Goals
Our Powerful Network of Business Connections
The Auctus Approach: End-to-End 6-Step Process
Decide First Tier Candidates
Business Scorecard and Metrics
Over 15 Industry Segments, 100's of talent placements

Business Outcome: Value and Growth

6-8 weeks to offer
OUR PARTNERS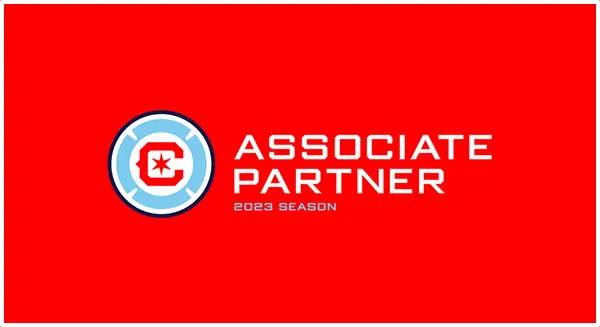 Chicago Fire
AUCTUS SEARCH PARTNERS IS PROUD TO BE A CHICAGO FIRE FC ASSOCIATE PARTNER
We're thrilled to share that Auctus Search Partners is now a Chicago Fire FC Associate Partner!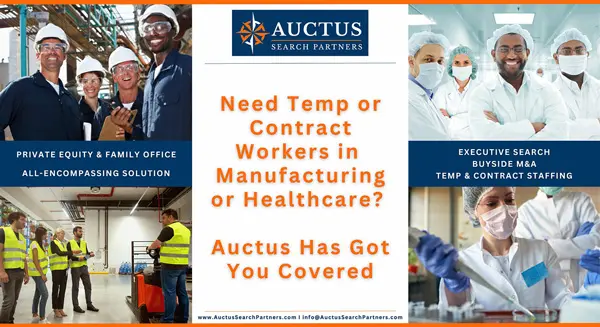 Temp Staffing
Need Temp or Contract Workers in Manufacturing or Healthcare? Auctus Has Got You Covered
Exciting news from Auctus Search Partners – We've expanded our services through a strategic Affiliate Partnership, focusing on the manufacturing and non-clinical healthcare sectors. We now provide tailored temporary and contract staffing solutions to meet your industry-specific needs.
TESTIMONIALS
Ken offered us not only comprehensive profiling analysis focused on our precise hiring needs, but also timely & helpful support from their knowledgeable personnel. Ken and team took all the guesswork out of our hiring process. Strong product implementation, process; support offering desired results.
The training Ken and team provided was excellent. The trainer's knowledge of the oil and gas industry combined with the interactive nature of the course resulted in a motivated and energized sales force. I would recommend this training to any organization looking to invest in their people to gain a competitive advantage in their marketplace.

Ken was an amazing resource for Symmetry 360 Massage in finding the perfect candidate for a vital position in our company. Being a fast growing service business requires a very unique type of leader to balance strong business acumen with the heavy interpersonal intelligence required to manage so many care-giving personalities. Our company had seen a tremendous amount of growth over a short period and the transition that comes along with that rate of growth made it imperative that we get the right person for the job the First time. All the testing provided by Ken was invaluable for finding the right fit. The thorough and clear breakdowns we were provided with helped us find an amazing asset to our team who we may not have considered without the team's input. Ken was extremely responsive and cognoscente to the individual needs of our business which made it easy to find the right person far quicker than we expected. We look forward to working with Ken again for future high level hires and I would highly recommend Ken and team to any business with complex hiring needs.
I have known Ken and his organization for 3+ years. Our organization has used his selection tools and we have recommended Ken to our clients. Ken is extraordinarily knowledgeable, an A+ level consultant, very customer service oriented, ethical and transparent. Every project he manages has reflected the quality, quantity and timeliness he promised. I would recommend his organization to anyone.
We reached out to Ken and team to help with the professional development of one of our senior managers. The senior manager plays a dual role of leading a team of software programmers and working with our sales group to support customer acquisition and customer interface during implementation. Over a two month period Ken was able develop skills and behaviors in our senior manager that not only made him a more effective leader of his team, but also a tremendously improved contributor to our sales process. This improvement has made an immediate and material improvement to sales outcomes. We can highly recommend this group for professional development of mission critical managers and leaders in the software industry.
I've worked with Ken in a variety of business situations. Ken is a creative thinker who has a great appreciation for the people side of business. He always brought a unique and valuable perspective to issues that were confronted, and he always conducted himself with the highest standard of ethics.
Ken and his team were invaluable in helping us to become aware of our weaknesses as leaders and also how to start the process to improve those weaknesses to make us better long term. His outside view and past business experience were also a huge help in making changes in our internal processes that not only raised our employee morale, but helped us to improve the overall experience of our customers.
Ken and team helped Antonoff & Co. with personality and skills testing for candidates for a vitally important position at our company. Ken Greenberg was extremely responsive to our needs and turned the tests around speedily (within ½ a day of receiving the completed tests). The tests were very useful to understand the intelligence, skills and personality of each of the final applicants. The test results were invaluable in helping to confirm (or put in doubt) information we had gathered through the application and interviewing process. In addition to providing the test results, Ken spent time helping us to understand both the meaning of the tests and how to utilize the test results in the onboarding process to help to understand critical potential shortcomings of each potential employee as well as his/her needs and desires. When we decided on a particular candidate, Ken advised us of particular actions we could take that would serve to enhance the likelihood of a successful long-term employer/employee relationship. Through the process of testing and consultation with Ken, we found an employee who has turned out to be a great fit for the position and for our company. We were also able to eliminate some candidates who interviewed well, but who had shortcomings we likely would not have discovered until we had already hired that person. I would highly recommend Ken and team for assistance in the hiring process.